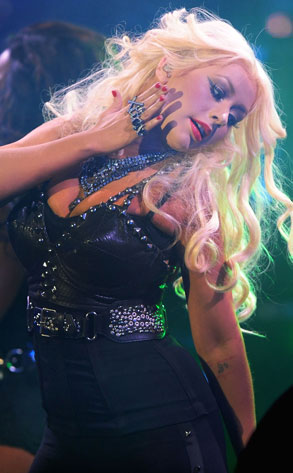 Christina is a hit single.
Wasting no time getting back into the mix after the recent breakup of her marriage, Christina Aguilera belted out some of her classic numbers ("Ain't No Other Man," "Fighter," and "Beautiful") Saturday night during Justin Timberlake's charity concert at Planet Hollywood in Vegas.
At the show, which also featured appearances from Elton John, T-Pain, Selena Gomez, Lady Antebellum and Diddy, Timberlake introduced Xtina as,
"No contest, the best vocalist of my generation."
For once, you can probably believe the hype, but this may not have been the highlight of Aguilera's night.
After performing at JT's event Benefiting Shriners Hospitals for Children, the newly single platinum beauty took her crew of dancers and close pals to Tao to blow off some steam.
Clad in a skin-tight gray Herve Leger dress, Xtina danced with her friends and waved to the crowd from her skybox. And when DJ Vice shouted out
"the sexiest lady in the world is in the house"
the crowd went nuts and snapped photos. Aguilera stayed until nearly 3 a.m., enjoying herself surrounded by friends.
Seems like being single's not so bad.
Source:
E!Online